Opened in 1953, Eden Elementary enrolls about 250 students in 4K to 5th grades, including Early Childhood, with two sections in most grade levels. Our school is located in the Village of Eden on the outskirts of the scenic Kettle Moraine State Forest. Students come from the Village of Eden and Towns of Byron, Eden, Osceola, Mitchell, Empire, Forest and Greenbush. Our rural quality of life is a short commute from job centers in the Cities of West Bend, Oshkosh and even Milwaukee.
Our school's dedicated staff focus on core academic subjects while enriching students in Music, Art, Library Media, and Physical Education. With our Reading Specialist, Reading Interventionist, and Advanced Learners Coordintor, we strive to meet the needs of each individual student.
We appreciate our PTO who organize fundraisers and family events including a dance, movie nights, Career/Opportunity Day, Come Dine With Us, and so much more. Our high parent involvement is one of the many strengths of our school. Recently, a new playground was added to our grounds with the help of the PTO and many other contributors from the community.
We pride ourselves on small class sizes, building positive relationships with all students and families, and offering a more personalized educational experience. Please call anytime for a tour or to find out more about our amazing school. 920-477-3291.
As the proud new principal of Eden Elementary School I am so humbled by the kindness that I have received and the grace in which everyone has helped me learn about Eden and the School District of Campbellsport. I have truly enjoyed getting to know our Eden families and this wonderful community that we have. Thank you all so much!
I grew up in Slinger, WI and currently live in Allenton, with my husband, Scott, and our three sons; Owen, Noah and Adam. We enjoy spending time in Eagle River, playing/watching all levels of sports, traveling around the US, spending time with our extended families and skiing in Colorado!
Upon graduating from Slinger High School, I went on to receive a Bachelor's degree in Special Education from UW-Whitewater, a Masters degree in Special Education from UW-Oshkosh, a Reading Teacher Licensure from Viterbo University, and a Masters in Educational Leadership from Cardinal Stritch University. I proudly served as a Special Education teacher for 13 years at Central Middle School in Hartford before moving into an administrative role in Fond du Lac as an Assistant Principal of Woodworth Middle School for 3 years and the Principal of Evans Elementary School for the past 5 years. I love to work with people, teach children, and learn new things each and every day - which makes being a principal the best job in the world!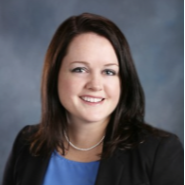 Amy Rettler
Eden Elementary Principal
(920) 477-3291
arettler@csd.k12.wi.us